(Reporter: Li Huan) Renovated the new house, went shopping with the family to buy furniture, and happily arranged the ideal home. It was a happy and happy thing. However, in the process of buying furniture , Ms. Zhang encountered an annoyance .

"I didn't expect to be so troublesome. I was very happy. I am depressed when I think about it now." Ms. Zhang said, "Well, let's make a deposit, go back and consider a few days, if you don't want it." I can return it to me, I won't accept it for less than half an hour."

According to a friend, Ms. Zhang paid a deposit of 500 yuan in a shop in Xianghe Building Materials Home City in Lotte Street. Later, she found that she had misread the brand and immediately went to the store owner to ask for a refund, but she was rejected. "Our home's lamps were bought at the natural lighting store. The owner, Mr. Suo, is very good. He introduced a furniture store called 'Tianya Lizhu', saying that he is his friend and can give me the maximum discount." The lady said, "When I turned around, I saw a shop called 'Pearl on the Pearl'. I remembered that it was like this brand of beads. I went in and looked at it."

After Ms. Zhang entered the store, she asked the store's shopping guide. Is it a friend of the boss, and the other party answered yes. "Because Mr. Su of the lighting store said that there are two physical stores in the store he introduced, I also asked for it specifically. Her answer is still yes. I think that should be this one. I will be there that afternoon. With my mother, I chose the style together." Ms. Zhang said, "At the time, Ms. Wang was in the store. She said that if I paid the deposit immediately, I could catch up with a group purchase and get another 300 yuan. At that time, she I personally promised that if I don't think about it, the deposit will be returned to me. I didn't think much, I paid the money very quickly."

After paying the money and going out, Ms. Zhang found the Tianya Lizhu, a few steps away from the store. After confirming with her friends again, she found that she had made a mistake. "That is a matter of ten minutes, I will fold back. At that time they insisted that there was no promise to refund the deposit to me. And when I asked the clerk why I should lie to me, let me think that their home is what I am looking for." That brand, she replied that she was only 'inducing' me, and did not deceive. This answer really made me very helpless. I admit that I remember the wrong brand, but her 'induction' is not appropriate? "
Ms. Zhang was looking for a few shopkeepers. After not getting any results, she found the business management department of Xianghe Building Materials Home City. "At first they said that they had to find a way to deal with it, and then they began to evade. How much I ran back and forth, and on May 12, it was almost a month, and I did not solve it."

Yesterday, the reporter accompanied Ms. Zhang to the Pinshang Mingzhu store on the fourth floor of Xianghe Building Materials Home City. The owner, Ms. Wang, denied that she had promised to make it clear that even if Ms. Zhang found the business management department or other management department, she refused to return it. Deposit. After learning about the identity of the reporter, Ms. Wang refused to answer any questions.

Then the reporter accompanied Ms. Zhang to the nature lighting store. The owner, Mr. Suo, said that he was actually introducing Liya in the world. "After that Ms. Zhang found the business management department, the manager of the business management department called and asked me, I am also That said," said Mr. Suo.

Mr. Yuan, a staff member of the Commercial Management Department, said: "We have also learned about the ins and outs of this matter, but we are not good at judging each other. And our business management department is mainly responsible for after-sales service. Say that the goods are not delivered on time, there are problems with the quality after delivery, etc. These are what we can manage."

"I just want to know, is the duty of the mall's business management department really just after-sales? Is the clerk's 'induction' behavior reasonable and legal? Can it be stipulated after the deposit is paid? Is there a regulation? After the incident, who will protect the rights and interests of our ordinary consumers?" Ms. Zhang said with anger, "This matter will not be resolved. I will continue to find the Consumers Association, find the Industry and Commerce Bureau, and find a place to solve the problem."

You would be happy if you use a light and beautiful kitchen tongs, the Nylon tongs could fix your requirements. It could be shaped beautiful shapes like cake, corn, head, snow flower, etc. Fact proofs that the Christmas type tongs have great selling annual. The heat resistance of Nylon materials is 230 °C, it won't be any harmful substances when picking the thermal foods.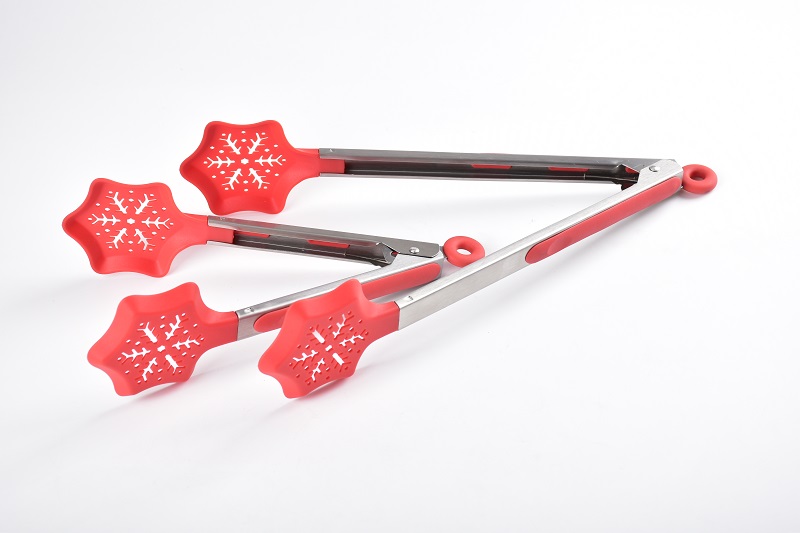 Nylon Tong,Nylon Food Tong,Nylon Kitchen Tong,Nylon Salad Tong

Fortary Industry&Trading Co., Ltd. , https://www.kitchenset.de