4 Education

The foreign packaging engineering profession first began at the Michigan State University. They first started the packaging engineering major at the Agricultural College in 1952, then set up the packaging school, enrolled masters in 1957, and recruited doctors in 1995; now there are more than 20 universities in the United States. Packaging for undergraduate or graduate education. More than a dozen universities in Germany (Dortmund University, Berlin Institute of Technology, Hamburg Institute of Technology, Dresden University of Technology, Stuttgart School of Printing, etc.) have packaging specialty and courses; France has packaging school, English, Italian, Dutch, Portuguese Australia and Australia have a major in packaging engineering; New Zealand has a graduate school for graduate students; South Korea has two universities in packaging engineering, India has a packaging school, and Thailand has a packaging specialty.

Since we went to the United States in 1985 to investigate and moved their packaging engineering professional teaching plan and teaching materials to China, the real sense of packaging engineering education began to be established in some of China's light industry colleges and universities. From the emphasis on packaging and decorating or packaging machinery to more emphasis on the transformation of packaging projects. At present, there are about 50 colleges and universities with packaging engineering, and the number of undergraduate enrollment is 2,000 every year. In the two major professional adjustments in the degree management office in 1992 and 1997, after everyone's efforts, the undergraduate major in packaging engineering was finally retained. Now Jiangnan University and Tianjin University of Science and Technology have also begun to recruit doctoral students in packaging engineering under the light industry discipline. It can be seen that the scale of professional education in packaging engineering in China has exceeded the United States, but the level of packaging education still can not meet the needs of the development of the packaging industry.

The discipline of packaging is a highly integrated, cross-cutting technology discipline involving the packaging process, circulation, and disposal of products; related disciplines include materials science, chemistry, agronomy, mechanics, electronics, arts, trade, management, environment, law, psychology, Culture and so on. Packaging aims to protect products, facilitate circulation, promote sales, increase product added value, save resources, and protect the environment.

Packaging disciplines have certain connotations that are different from other disciplines, such as fragility assessment in transport packaging, damage boundaries, load spectra and non-linear vibrations in transport processes, and packaging dynamics issues such as material buffer performance characterization; Non-linear static and creep problems in the process of pressure stabilization; theory and methods for product shelf life, packaging life cycle evaluation, and packaging system design in sales packaging; mechanism and mechatronics in the development of high-speed packaging machinery As well as technical issues closely related to the packaging process; the strength, stiffness, air permeability, ergonomics, environmental protection, design theory and methods for comprehensive economic evaluation of packaging materials and containers, etc.; and packaging design In the arts, humanities, markets, and psychology.

In response to some of the hot issues reflected in the development of packaging education in China, only the following suggestions are proposed.

4.1 As soon as possible formally included in the packaging project graduate directory

As a secondary discipline under the light industry discipline, the armoring project has still not been fully affirmed. It has not yet been included in the graduate list. This has, to a certain extent, restricted the cultivation of senior talents in packaging engineering. In the future, we must continue to make vigorous efforts to publicize and continue to work hard to win over the degree management office and rapidly include the packaging project in the graduate directory. As the light industry subject group is currently linked to Jiangnan University, it is recommended that China Packaging Technology Association sponsor and organize a special working group to commission Jiangnan University to take the lead and complete all preparations for the application before the next academic degree committee is convened.

4.2 Promote Publicity of Packaging Engineering

Most of the existing packaging professional teachers in China are transferred from the mechanical specialty. They pack the engineering specialty according to their old professional knowledge. The result seems to be that packaging design engineering graduates do not design packaging machinery as well as mechanical design students and engage in new materials. The development is not as good as the materials profession, and the students are not as good as the management students in management, and the design and decoration are not as good as those of the art design students. This also involves the issue of where the packaging engineering students are assigned. The teaching plan we set up is basically a reference to the United States. The first is the product packaging design service for all front companies with hundreds of millions of employees, followed by the training of professional talents for packaging production companies. The majority of China's current production enterprises, except for Haier and other large household electrical appliance companies and Wahaha and other food and pharmaceutical companies, have no special packaging development agencies and laboratories, product packaging is basically imitating the packaging structure of similar foreign products, and therefore The introduction of packaging engineering and technical personnel is not active. In addition, China lacks R&D units specifically designed for the packaging of small and medium-sized enterprises, which greatly limits the choice of packaging engineering students. Therefore, in the talent exchange meeting in the future, we should vigorously publicize the characteristics of packaging projects and the importance of packaging development to enterprises, and attract more large enterprises to recruit students of packaging engineering. Secondly, China Packaging Technology Association should encourage and support the establishment of packaging-oriented R&D units facing the region according to the laws of the market and expand the professional team of packaging engineering.

4.3 Further Strengthen the Professional Features of Packaging Engineering

For the packaging manufacturing enterprises in China, which have about 3 million employees, the institutions can, according to the requirements of the enterprises, strengthen the training of certain courses on the premise of ensuring that the main courses are not weakened, so that students can adapt to the technology of the enterprise as soon as possible. Development needs. For example, for students who need carton carton plant, they can increase the content of teaching related to paper packaging; for students who need plastic packing factory, they should increase the plastic teaching content. Of course, there is a need to solve the problems of education system reforms such as the early allocation or multi-segment training plan. This needs to be done by various institutions to make full use of their own advantages, and to make the packaging engineering professional office very impressive. Professional characteristics, academic characteristics, curriculum features, etc., will always be the magic weapon for the survival and development of the packaging engineering professional founders in the market competition.

4.4 Training of Advanced Technology Talents for New Packaging Systems

In order to cultivate advanced technical talents who can solve new packaging systems and complete equipment development, we can consider double-degree training programs, or implement cross-disciplinary postgraduate training programs, so that packaging engineering graduates can have a higher level in one of them. Academic achievement, or to make other professional graduates more proficient in the technical aspects of packaging engineering.

4.5 Preparation of high-level packaging engineering textbooks

Although there have been two national compilations of packaging engineering textbooks, due to various reasons, it is no longer possible to adapt to the current teaching requirements, and it is urgent to reorganize the writing. Is now in a "Spring and Autumn and Warring States Period" state, each compiled various teaching materials. Objectively, it is a waste of limited resources. The China Packaging Technology Association should coordinate the strength of the relevant institutions, break the threshold of the portal, hire the professor with the highest academic attainments in the field as the chief editor, absorb the experts of companies that have introduced the latest packaging systems, and jointly prepare a set of high standards for the 21st century. Horizontal packaging engineering textbooks are of great significance to improving the teaching quality of packaging engineering.

4.6 In-service employees engaged in packaging technology through adult education and training In-service employees engaged in packaging technology in existing enterprises shall be trained through adult education. In order to meet the needs of adult education, China Packaging Technology Association needs to organize experts to prepare electronic teaching materials for distance education as soon as possible. Packaging associations in countries such as the United States and Japan have some experiences that we can learn from.

4.7 Vigorously carry out the application for production, research and engineering projects

The development and improvement of professional education of packaging engineering depends on close cooperation with the enterprises and packaging companies in front, and it is necessary to vigorously carry out the application for the production, research, and engineering projects, so that education and production are closely combined, teaching and research are closely combined, and in-school and off-campus are closely integrated and cultivated. Closely integrated with use, current and long-term close integration.

5 Concluding remarks

The investment in packaging education has always been a problem that has plagued the development of packaging engineering. The solution can only be a variety of channels. The country's investment is limited, especially in the case of packaging engineering majors in the institutions can not be ranked in the case of key disciplines, the eyes must be oriented toward the enterprise, and strive to obtain mutual support through the mutually beneficial cooperation, get the support of enterprises, and develop and grow themselves. Some colleges and universities have achieved a lot in this area. Exchanges and cooperation with foreign countries are also an indispensable link in the development of packaging engineering education. We must make full use of various channels and keep abreast of the dynamics of packaging education around the world.




Peng Guoxun Shaanxi University of Science and Technology Source: Journal of Zhuzhou Institute of Technology

Manual Open Straight Umbrella is also called a Manual Open Stick Umbrella or a Hand Open Straight Umbrella. They come in many sizes and weights and of course they all are of exceptional quality and appearance. If you are looking for a sturdy and classic umbrella for travel, business or outdoor, look no further than our manual open straight umbrella. Our reputation has been built on quality, design and service – all at a competitive price. It is also a great item for promotional purpose or advertising on important event.




Our Manual Open Straight Umbrella is known for fine detail and craftsmanship. Your design is carefully taking care by our skillful workers. They are capable of carrying out the complicated tasks, such as pico lace, ruffle, frilling, overlock and so on. The pattern or logo can be processed by printing or embroidery on an umbrella.

Material and Quality:

Our Manual Open Straight Umbrella uses specific waterproof and water-repelling coated fabric. There is also a super-fast drying water-repelling fabric for alternative. We have many styles, colors and a large fabric range from which to choose. Fabric types are included Cotton, Polyester, Nylon, Rip-stop, Yarn-dye, Satin, Twill, and etc. Some of them are made in Japan or in Taiwan.




We select the highest specification materials for the frame. The frame is made using carbon fiber, fiberglass, aluminum, wood and steel.




The handle is always the first thing to be noticed with an umbrella. We have made a wide range of handle designs available, using wood, bamboo, genuine leather, PU leather, plastic, EVA foam and alloy. There are crook handle and straight umbrella in shape.




OEM and Order Quantity:

We have been operating as one of the leading high end umbrella manufacturers in the world for over 30 years. We are well known for our OEM work, along with producing many designer brands.




We can provide customization for your designs and logo. What a great way to present your company to the world! A prestige product with your own company logo – give your company the class and style it deserves.




Flexible in order volume - orders can be in LCL or full container - MOQ can be discussed accordingly.




Whether you are a wholesaler, retailer or small business owner, our high quality Straight Umbrella is a great collection to enhance your product range and improve your business.




Packaging:

Each straight umbrella is packed in a clear poly bag. Ten pieces per inner carton - 3 to 5 inner cartons per standard export carton.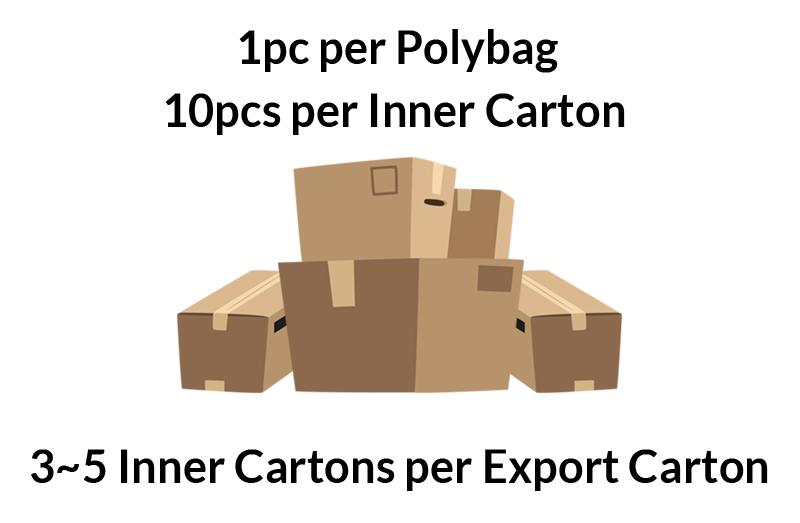 About us:

Hyades Umbrella Co., Ltd. is a Taiwanese company specializing in manufacturing various upmarket and designer brand umbrellas. Our company's mission is to achieve the highest standard of quality in the field and to go above and beyond our client's expectations.




Our product range from a straight umbrella, Folding Umbrella , Auto Open And Close Umbrella, through to Golf Umbrella ; from Kids Umbrella ; from Mens Umbrella to Women's Umbrella.




OEM Order Procedure: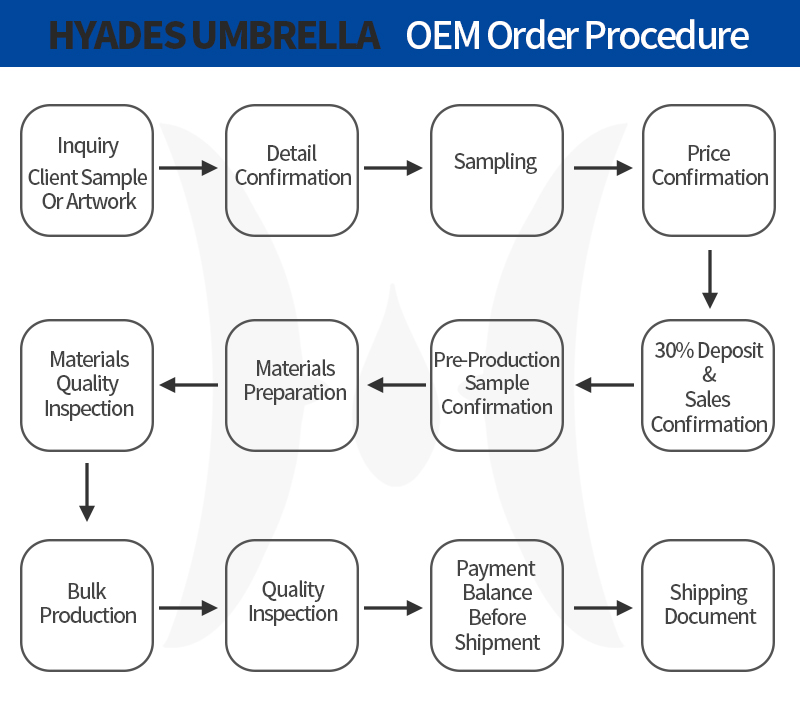 Our Production Procedure: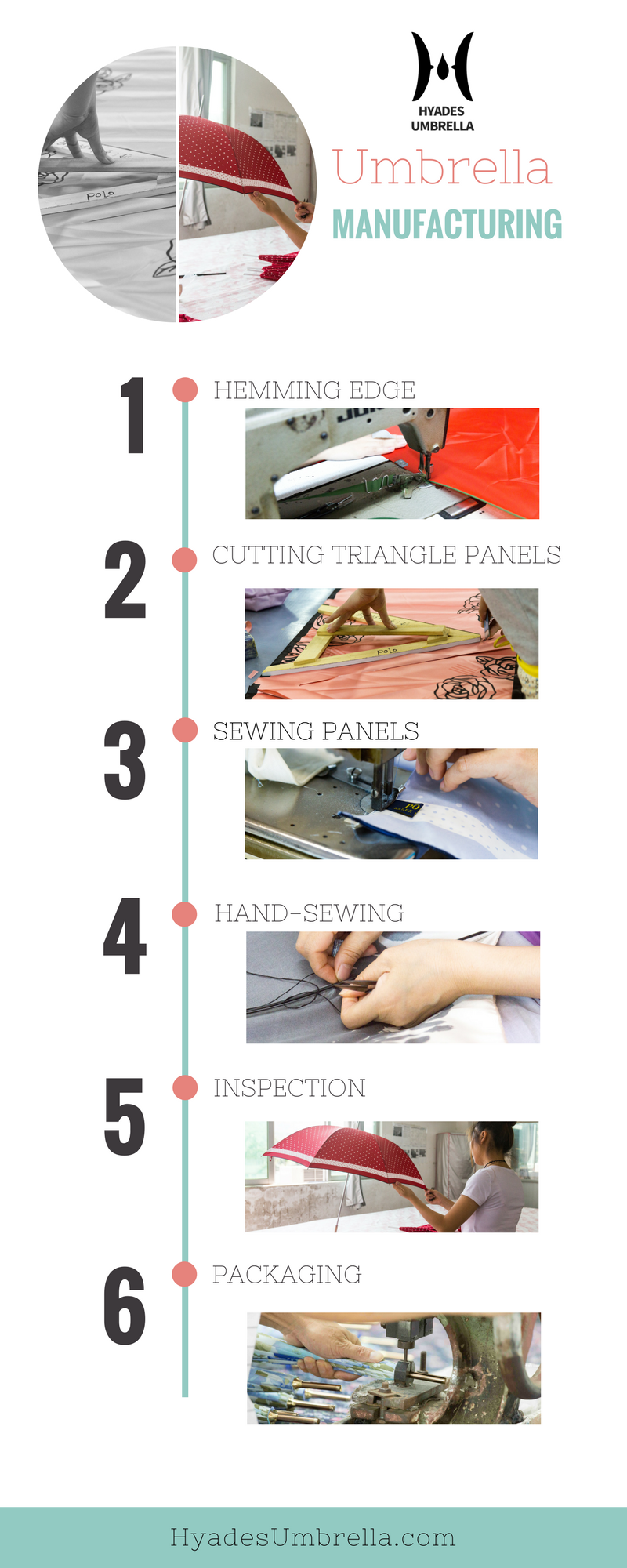 Manual Open Straight Umbrella
Manual Open Straight Umbrella,Manul Open Long Umbrella,Hand Open Stick Umbrella,Different Types Of Umbrellas
Hyades Umbrella Co., Ltd. , http://www.hyadesumbrella.com