Computer CPR simulator (IC card management software)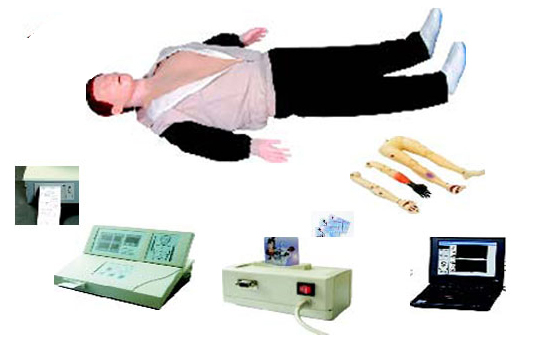 Advanced automatic computer CPR simulator (IC card management software)

This product is suitable for the super-new generation of products used by social cardiopulmonary resuscitation training institutions for teacher training, student universal training, medical schools, and medical and health system training. Facilitate management's management of student information.
Executive Standard: American Heart Association (AHA) 2005 International Cardiopulmonary Resuscitation (CPR) & Cardiovascular Emergency (ECC) Guidelines

Features:
1. With all the functions of SEH / CPR300S-A, the functions are as follows:
2. Student information IC card: Various assessment operation information is synchronously recorded on the IC card, and the IC card information can be used on the computer through the student management software for student test process playback, score scoring, and student assessment score file management.
3. Equipped with trauma limbs, which can replace the original limbs of the model, and can train four trauma techniques such as first aid, hemostasis bandage, fixation, and transportation.

Standard set configuration:
The main components:
1. One standard simulator;
2. 1 set of traumatic limbs;
3. One computer monitor;
4. One card reader;
5. One set of student information IC card (20 sheets / set);
6. One set of student management software;
Standard accessories:
1. One luxury portable human hard plastic box;
2. A portable Oxford bag for limb injuries;
3. One aluminum-plastic box for luxury computer display;
4. Connect a computer monitor and a human body model with a power cord;
5. A cable connecting the card reader and the computer;
6. One 220V external power cord;
7. One recovery operation pad;
8. One box of disposable CPR training barrier disinfection mask (50 hardcover / box);
spare parts:
1. 4 pieces of noodles;
2. Three lung airbag devices;
3. 2 rolls of thermal paper;
4. 1 bottle of cleaning solution;
5. A manual.

AUTOMATIC COMPUTER CPR MANIKIN

The manikin is suitable for social popularization of CPR, CPR training of medical colleges and health system. Guideline: AHA (American Heart Association) 2005 guideline for CPR and ECC.

Features:
1. All functions of SEH / CPR300S-B
2. Class management and student IC card. IC card can be used to record operation result, play the recorded operation and evaluate processes.
3. Trauma modules of limbs

Reflective Stickers :

Reflective stickers are made of vinyl / pvc adhesive sticker .Double sided printing is available ( two stickers attached together with their adhesive on the back ) ,the printed color is very glossy and lighted in the night .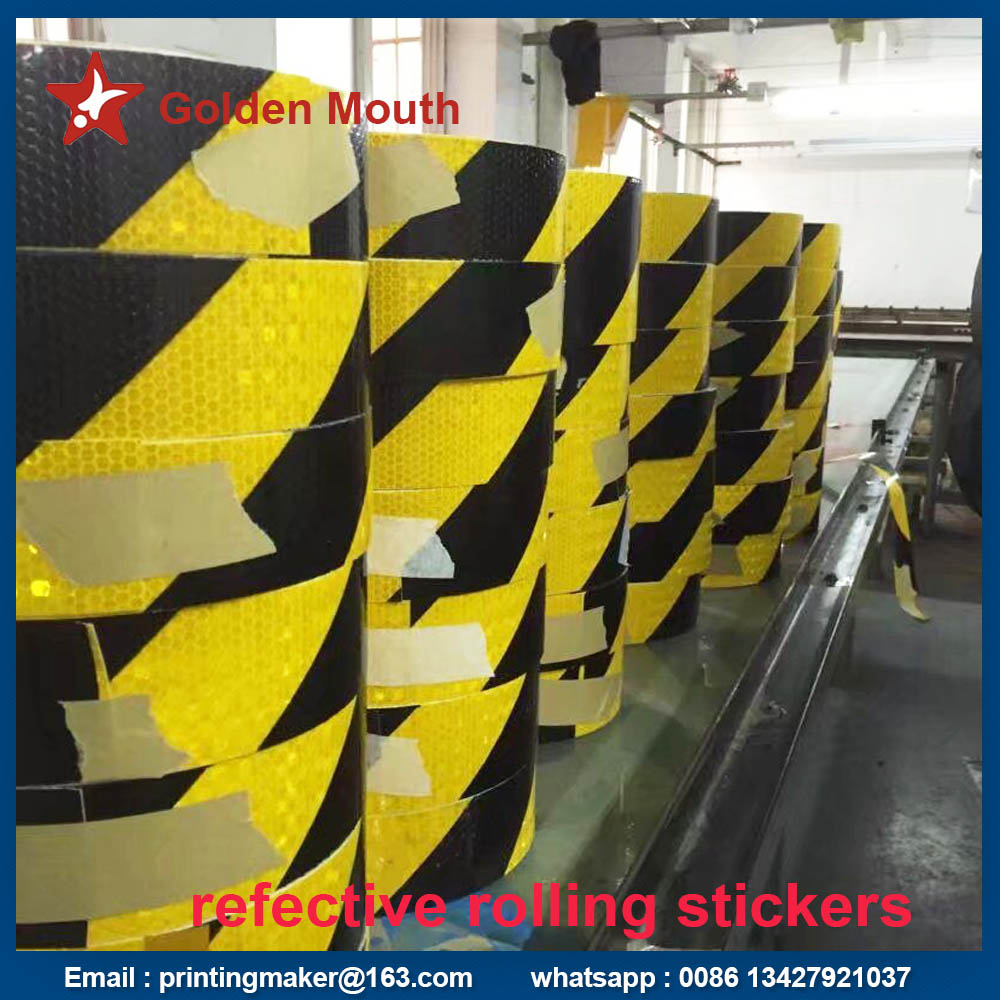 Specification :

1.item : reflective adhesive stickers

2. size for each roll:1.35*40 meter

3. thickness:0.03-0.05 millimeter

4. color: white

5. application:highway and some warning sign

6. feature :it will be lighten in the night when the light is on it ;there is no self adhesive on the back

7. MOQ: 1 pcs

8. printing : uv printing or digital printing

9. sample cost : USD35 ,it can be refund against the order

10. sample date : two days

11. artwork requested : 1:1 size with CMYK color in AI ,PDF ,JPG ,EPS TIF file

12. printing resolution :1440*1440 dpi

13. payment tern : 30% deposit and balance before ship with bank transfer ,paypal ,moneygram ,western union ,D/A ,D/P .

14. printing quality option : one year , three years , five years outside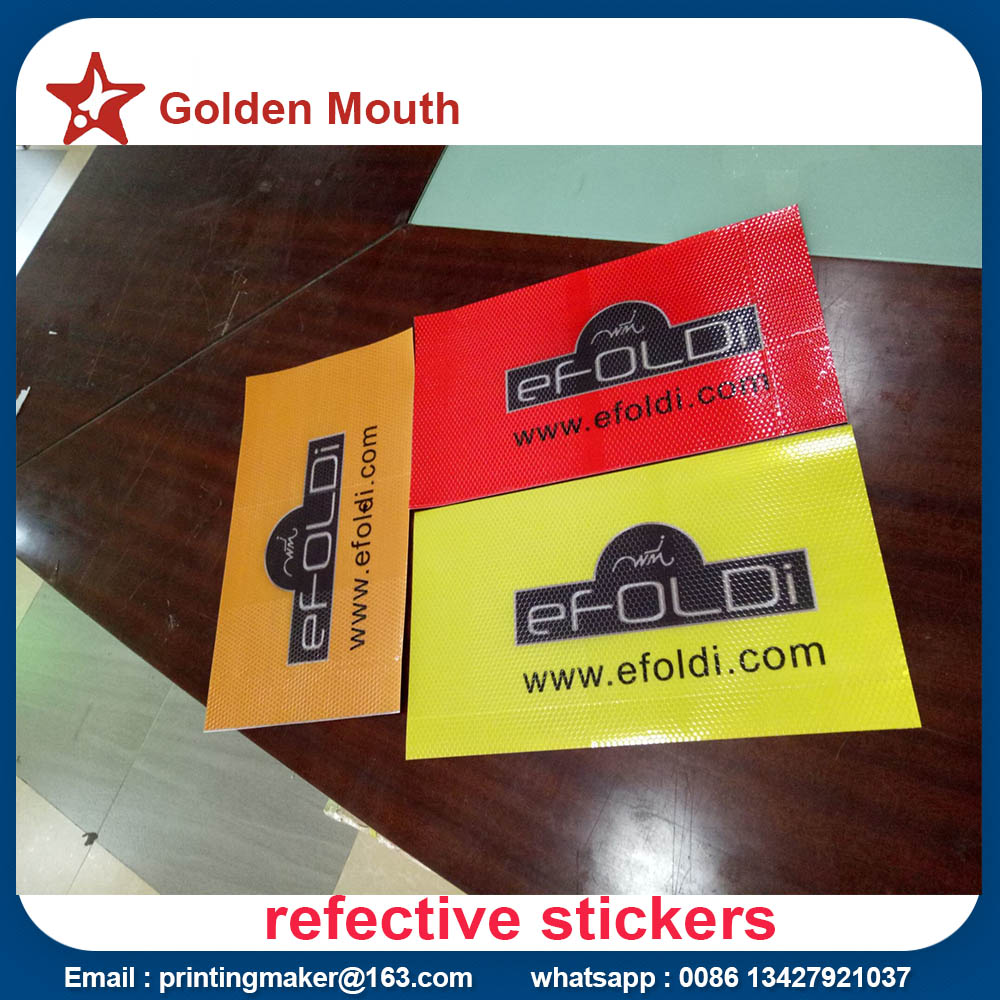 Reflective Decals,Reflector Sticker,Custom Reflective Stickers,Reflective Sticker

Golden Mouth Advertising (H.K)Co.,Ltd. ( Jie Da Advertisement Co.,Ltd) , https://www.advertisingflagbanners.com